Welcome to Annutto's Farm Stand, llc
LET US TELL YOU OUR STORY
FOUNDED IN 1984
Owned and operated by Tony Annutto and his daughter, Debbie. The Farm Stand has proudly been serving the public for over 37 years. Tony grew up on Annutto's Truck Farm where they farmed 300 acres of vegetables in Herkimer, New York where he continued to farm for 40 years. In 1984, he purchased the farm stand property where he began his new endeavor. He thoroughly enjoys working in the greenhouse and serving the community members of Oneonta and the surrounding areas.
We are fully-stocked to support all your produce needs as well as all your outdoor needs to create a beautiful and hearty landscape. We proudly carry a variety of local produce, foods and home goods from the surrounding areas. Come in to visit to see for yourself and enjoy the smells of all the fresh fruits, vegetables and baked goods around every corner.
The farm stand is open Monday through Sunday, April 1st to December 31st with special winter hours in November & December. We accept cash, local checks, Mastercard, Visa, and American Express.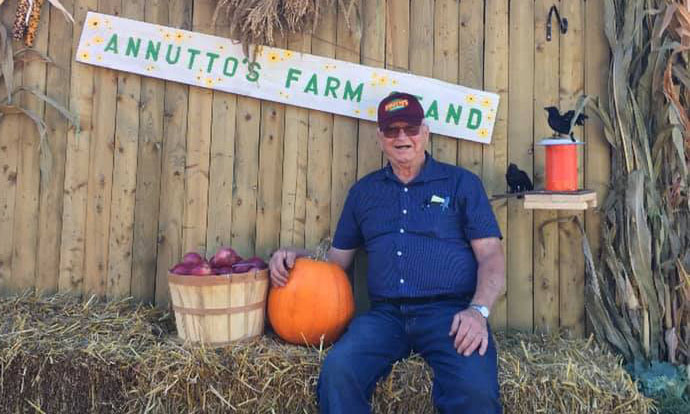 What our customers say
THANK YOU TO OUR CUSTOMERS
The strawberries I got today are fabulous! I am also a fan of your red peppers and so many more items ... too many to mention! Thanks for bringing quality food to our community!

Bonnie J.

Oneonta's longest running and most complete farm stand. The selection and service is fantastic. I love the cheeses and house made peanut butter. The store is always meticulously clean and the staff is extremely helpful. Highly recommended!

John T.

Annutto's is a family farm stand that you can count on. Their veggies are fresh, fruit sweet, delicious bakery good, farm fresh!!! Love this place and thank you for always being there working so hard for our community.

Lori M.

Their prices are slightly higher on some products but the quality far surpasses any other place around. And service is exceptional. I don't shop anywhere else for my fresh produce

Cinnamin S.

One of our favorite spots. We stop here at lest once a year. Great apple cider doughnuts and an amazing selection of cheeses. Everybody will find something here. Well worth a stop if you're in the area.

Scott C.

first time going here today! flowers were gorgeous and the produce looked awesome! staff was very friendly and knowledgeable. I was given the chance to taste a white peach and wow. so juicy and delicious. cant wait to go back!!!

Lacey C.

Always spend much more time there than planned. So many great items to browse. A friendly and knowledgeable staff. If I have a problem Debbie helps every time. Thanks guys!!

John S.

The best! Go there! A terrific place with delicious fresh fruits,vegetables, pastries, food Mart and garden center and more. Right now so colorful for autumn!

Robin B.

Buy all of our bedding plants here, as well as little things throughout the year - one stop shopping!!! Owners are always so gracious!

Denise N.

Annutto's offer gorgeous Garden plants and pottery. Wonderful Christmas trees and wreaths. Delicious Bakery and cheese items. All the way around it's great.

Brooke W.

Great stop for local fresh food. Veggies, spices,doughnuts, they have a a little bit of everything an something for everyone

Penny B.

A great place in Oneonta to get specialty groceries, fresh produce, and amazing apple cider donuts!

Hasan S.

Friendly staff, fun shopping for whole food, spices in bulk, produce, plants, yogurt, and nitrite free meat.

Patty B.

Great family-run business that cares about the community. From produce to plants to pellets...let's not forget their wonderful cider, they offer a wide variety of products! Keep it local, Oneonta!

Rick M.
---
Gift Certificates Available! Stop in to get yours!